PulseSynth-with Enveloped Speed A Pulse width modulator, under the control of a LFO, whose speed is modulated by an Envelope follower when 2nd stomp is engaged. Controls include Pulse- width, Depth, Speed, Envelope sensitivity, Pre-gain, and Volume. Very Robotic, synthetic, and noisy............. Can be used without modulation as filtered noisy distortion. When used before a chorus, sounds VERY synth-like........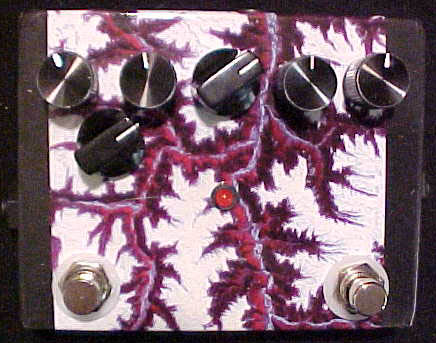 Wool Fuzz-SabbathFuzz Full on Black Sabbath wooly fuzz, with a switchable mid notch, but not as thin as the usual Metal sounds......Really thick dark fuzz. Kind of a two trick pony, but fantastic at what it does. With the Highs rolled off via tone knob, it gets muddy pretty quick, but when the highs are full up, is much less 'hashy' then big muff pi.....its smoother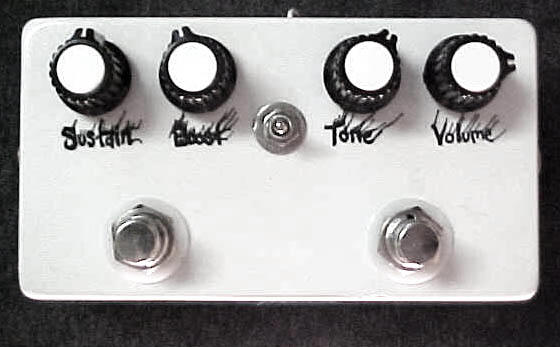 Line6 switch-double your pre-set banks This plugs into your line 6 modeler (dl4,fm4,ds4 etc...) through the EXP jack input. In one stomp position, you have your normal 3 or 4 memory pre-sets. stomp on this switcher, and you have a whole new set of banks that work just the same way. Now the 2 presets that share a stomp (on line6) will switch back and forth (with this box) in real time, without 'resetting'. This is 3 separate switches for a guy who uses 3 line6ers. battery is only for the LED, and will actually work fine with no power.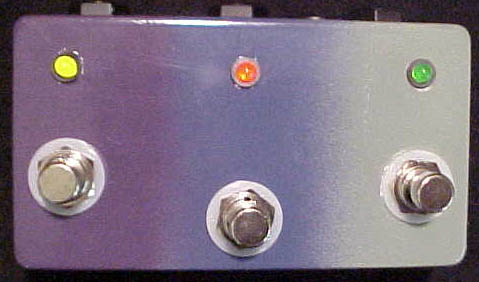 SmashFace-Brutal Tone Killer
I Really just threw the noisy bits of all my favorite noisy pedals into one box, with no regard to taste or tone, rhyme or reason, and got utter non-sense. Who would have thought...........
subtitles include Brutal Amp Blower, and Brutal Speaker Shredder, and Pissed-off room-mate/ anyone who paid to get in Maker.....................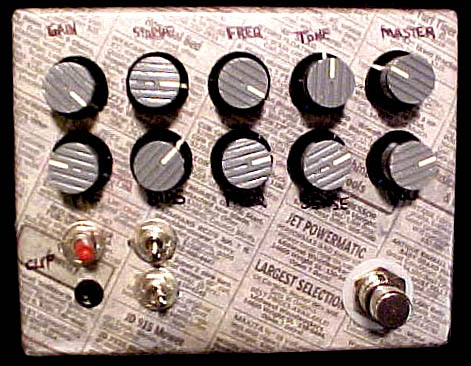 CloneTheory- mod'ed chorus Like the original Clone Theory, It has an "echo flange" switch, but here its a stomp. This is the big brother of the Small Clone, and has much better control. The flange switch has a resonance control associated with the mode, and goes into very rich chorus. There is a control to shift the delay time, making more or less pitch-shift. Also, Speed, Depth, and a Blend knob. (chorus/vibrato) This chorus goes from machine gun warbles to barely there background swirl, and every shade inbetween.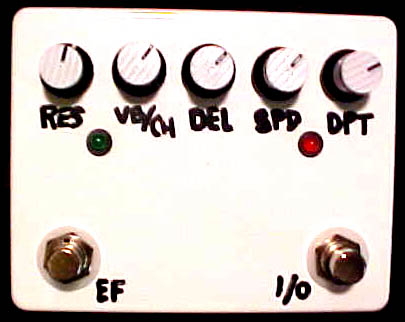 DualEnvelopeFilter- auto-wah An Envelope follower uses playing dynamics to run two very flexible high-Q filters. When used traditionally the effect screams funk, or worse..disco. With some tweaking and expansion to parameter control, you have a swirly swishy sweeping resonance machine affording a wide array of weird textures and sounds, from subtle to eerie. The follower controls are Sensitivity, attack, decay, and a frequency range switch. Each filter has cut-off freq, resonance, and freq. shift switch......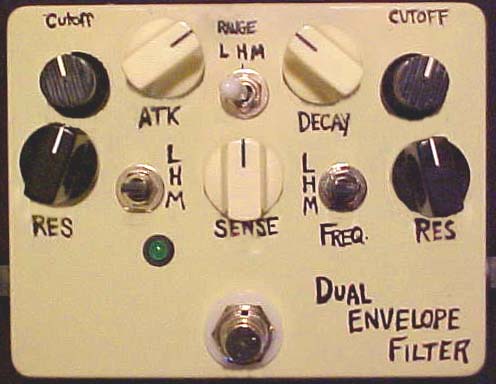 DualParaBlend-Effect Loop Blender Parallel processing is a really great way to get interesting new effects from your existing equipment. Ideal for Bass players as a clean/effect mixer to breath some low end into effects primarily made for guitar. Can also be used to blend Any two Effects or chains, and both sides see the signal and do their processing independently. This can be a great answer to "which comes first?" pedal chain situations. Great for blending OD and Fuzz for the best of both worlds. endless uses really...............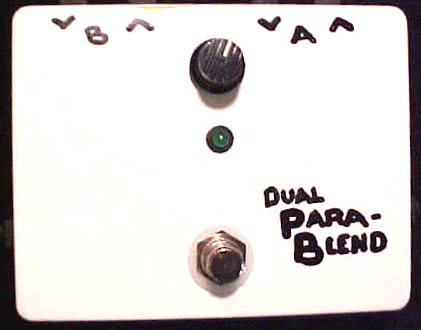 Mr.Shred-mod'ed marshall clone A really nice distortion, modified from original to allow both higher gain, and harsher distortion if desired. Controls are Pre-Gain, Volume, and clean blend, along with Bass and Treble controls, and a Mid-Notch/Peak knob. Also I added a 'hash' switch, that lets the high end signal break up a bit more, which I though was the pedals only real weakness....................this does well with a serial boost on a separate stomp switch.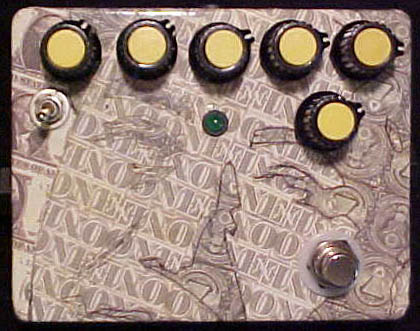 Trem Brulee-w/ full parameter control I had never met a tremolo I liked until I built this one. Along with Depth and Speed, come controls for Gap width, Square Wave to Sine wave blend, and ramp up wave or ramp down wave. I have been putting a resistive LFO out jack on these for use in control of many other pedal effect parameters. For instance, when used in the place of Delay time in the digi-log, you can get anything from vibrato/chorus to full blown non-sense. really could be used to sweep just about anything.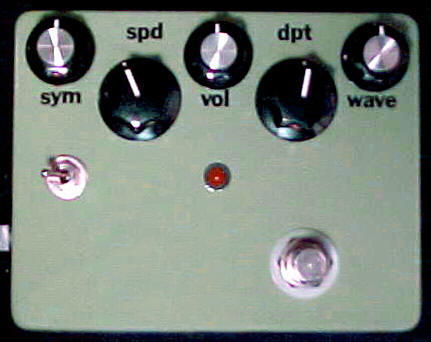 SuperOctaveFuzz-Dual Octave down Provides one octave down with volume, and a second adjustable divider that will divide by 3,4,5,6,7 or 8, with separate volume control for that signal. The circuit tracks quite well for an analog fundamental extractor, and the compression characteristics let the signal fade out just before input becomes too small to track, which is the flip-flop between fundamental and octave down upon decay of a note with typical octave dividers. Also a switch for clean blend, and for distorting the Op-amps.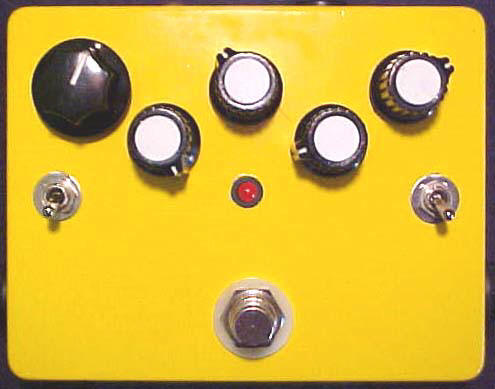 UbbeRat-FuzzDistortionOverdrive A heavily modified Rat that includes clipping stages from classic, turbo, and brat models, along with a Tube-Screamer style clip stage, or no diode clipping for HUGE BOOST, or Op-Amp clipping. Also, there is some added frequency response control. Much more control here than your average ProCo Rat, but similar sounds are available. Could easily have clean blend for use with bass..........................................................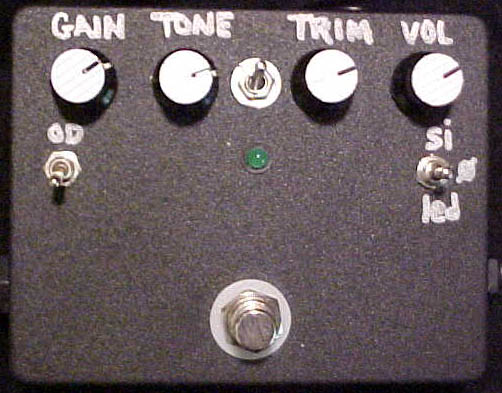 NoiseFace-Oscillator Fuzz Effect with controls for the oscillator frequency, and an envelope follower to shift pitch. Gate allows generated tone to take over when sustain dies, or sets both signals to stop together, and the noise stomp allows both signals to exist separately, yet not quite independently, resulting in glitches and gurgles and the like, leaning toward one signal or the other, depending on position of blend........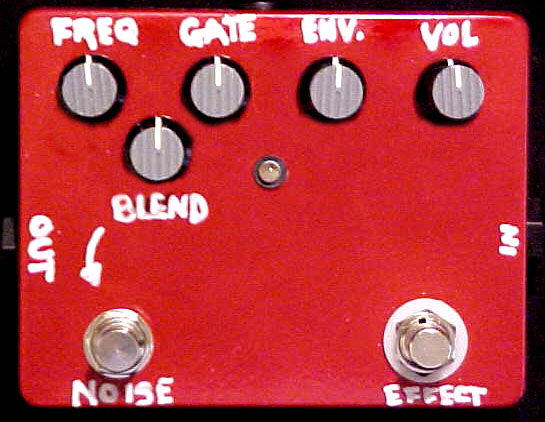 The Plug-in for sound clips may only work in MS Internet explorer......Sorry HOVER OVER IMAGES FOR DEMO, CLICK BUTTONS FOR SOUNDCLIPS....LINKS ABOVE SHOULD WORK SOUND CLIPS WILL WORK ALL AT THE SAME TIME, USE 'REFRESH' TO STOP THE CHAOS..OR DON'T
LISTEN UP...this page is the .wav file for a mp3 version of this page.......
CLICK HERE